Heron Lakes offers one of the premier Practice Facilities in the Greater Portland Area. The practice facility is a favorite for local competitive teams, serving as the home for the Concordia University Men's & Women's Golf Teams, Portland State University Women's Golf Team, and several Portland and Vancouver high school golf teams.
**Current Scheduled Maintenance**
Driving range will close at 6:00pm Sunday evenings
Driving range will re-open at 9:00am Monday mornings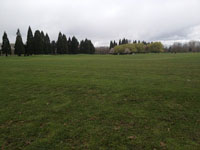 Driving Range
The Driving Range at Heron Lakes is the only public all-grass range in the City of Portland. The tee can accomodate up to 25 players and has a multi-tier layout with over 60 yards of tee space. The range itself is expansive and has several targets with markers at 100, 150, 200 and 250 yards.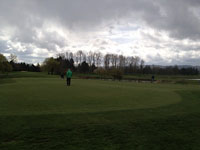 Putting Green
Heron Lakes has an expansive putting green with a minimum of 10 cups. It easily accomodates all players waiting tee off on both courses plus additional guests who are working on their putting skills. Putts of up to 90 feet can be attempted on this green. It is great for a tournament putting contest or a casual game between friends.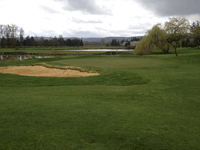 Chipping Green & Practice Bunker
Adjacent to the putting green is a dedicated chipping green with practice bunker. The forward approach is mowed like a fairway, and the areas around the green have been mounded so players can similate shots from a variety of lies up to 40 yards away.